Can Weight-Loss Surgery Cure Diabetes Type 2? World Diabetes
Sunday November 14th is 'World Diabetes Day' which was started to raise awareness about diabetes and tackle diabetes as a critical global health issue.
While diabetes type 1 is a disease that occurs in younger people, diabetes type 2 often comes on later in life and can be linked to unhealthy eating habits and/or sustained high Body Mass Index (BMI).
Although there's no cure for type 2 diabetes, studies show it's possible for some people to put it into remission. Through diet changes and weight loss, some people can reach and hold normal blood sugar levels without the need for medication.
New studies have shown that weight loss surgery is an effective treatment for those with diabetes type 2 with medical experts across the globe consistently providing further evidence of its effectiveness.
How it works
When a patient has weight loss surgery, big changes are made in the gastro-intestinal anatomy. These changes most of the time lead to weight loss, and in most cases, they can also improve the patient's ability to process sugars.
While the exact cause of the body's ability to process these sugars is not confirmed, some experts say that changes in gut hormones allow the patient to process glucose better. Others point more to the surgery leading to a more effective bile acid metabolism and that surgery can improve the rate of nutrient sensing and metabolism in the intestinal tract. New theories also indicate an improvement in gut microbiota following surgery.
When we operate on someone with diabetes, in a lot of cases patients get an improvement in their diabetes overnight. They then get a second improvement as their weight comes off. This is because of the hormonal changes and improvement in sugar processing that occurs.
Further research
According to the World Health Organization, over 90 percent of people with type 2 diabetes are overweight or obese, so it makes sense that lowering your BMI can help the treatment of diabetes.
Some research also indicates that the longer someone has a high BMI, the greater their risk of developing type 2 diabetes as fatty tissues are active, releasing and responding to hormones that increase the risk of metabolic syndrome, which can include diabetes.
Weight loss can be very challenging, which is why weight loss surgery is a fantastic option for those who have struggled with their weight for years.
In a recent long-term study of patients who had undergone weight loss surgery, 93 percent of patients maintained at least a 10 percent weight loss after 12 years. This maintained weight loss is significant for health and the treatment of diabetes type 2, as mentioned above.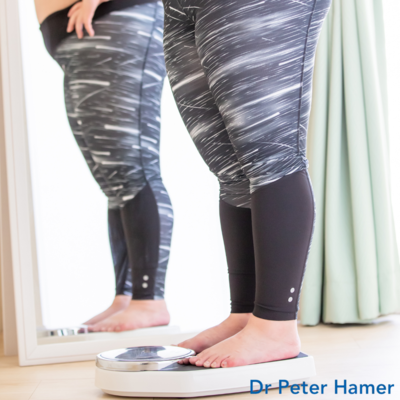 If you have diabetes type 2 and have struggled with losing weight, click here to explore our different weight loss surgery options that might work for you. Contact us on (02) 4380 8404 to chat to our friendly team to book your consultation appointment with Dr Peter Hamer and get your health back on track.
Resources
care.diabetesjournals.org/content/25/2/397
www.everydayhealth.com/type-2-diabetes/diet/secrets-of-weight-control
www.mayoclinic.org/medical-professionals/endocrinology/news/weight-regain-after-bariatric-surgery/mac-20431467
www.webmd.com/diabetes/can-you-reverse-type-2-diabetes